Show Review and Slideshow: Richie Spice at the Independent SF
by
Jessica Dore
on
Oct 14, 2010
Photos by: Lee Abel, reggaeportraits.com
On September 17 in San Francisco, The Independent featured Richie Spice headlining a showcase of all Jamaican singers. Kicking off with Sister I-Live, a relative of Peter Tosh, born in Westmoreland parish and since transplanted in the East Bay's Oakland, the dancehall diva wasted no time warming up the area. Ringing the alarms proper, Sister I-Live was encased in a flamboyant fire engine red patent-leather getup alongside an entourage of two each back-up dancers and singers. After a tough act to follow was Snatcha, the baby of the Bonner Brothers, bringing up the rear in a line of reggae royalty all the way from Pliers, through Spanner Banner and Richie Spice himself.
Around 11:15, a duo of female back-up singers (who, like many of their realm were indeed larger than their title) blasted vocals that sounded like what I used to think "chamber music" was when I was a kid: Women squeezed into snug fitting satin gowns with thunderous voices, belting out goblet-splitting vibratos from inside rooms built like tunnels with marble floors, ceilings and smooth curving walls.
After about two minutes of introduction, Richie Spice, donning absolutely mint condition electric red loafers and a red leather jacket, opened with one of the newer tunes of his recent catalog of singles, "More Life" on the Changes Riddim. The ladies' tidal wave back-ups beautified an already stellar tune, while Richie's voice, of course, boasted beauty all his own. The crowd was a sea of gratitude, eagerly lapping up that familiar voice with its nasal foundation embellished with breathy, pushed-straight-from-the-chest high notes.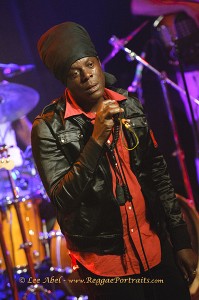 Even if not for the pure nostalgic value of many of Richie's tunes, his lyrical content, like many of his roots contemporaries, are resonant with a mindful crowd featuring hard-hitting social commentary tracks like "Earth a Run Red" and reggae lovers' anthems "Brown Skin," and "Ghetto Girl." Boasting unparalleled crowd control and standing firm as could be, Spice was comfortable as a kitchen conversation without an ounce of uncertainty. After all, only a room ruler that cool and calm could go hard on stage for more than an hour in a full leather jacket and long pants, all the while appearing to barely break a sweat.
The serious nature of perhaps his biggest tune to date, the mammoth "Youth Dem Cold," was balanced by a subsequent rendition of one of his best feel-good, laid-back rocking jams, "Righteous Youths." The latter was heart-warming with calm, smooth vocal breaks and cool ad-libs. Next was "Gideon Boot" followed by "Street Life" and a smooth slide into similar rhythmic, absolutely beautiful, good word real-talk tune "World is a Cycle."
After offering big ups to all the farmers with a simple, resonant declaration that "without them there'd be no food on the table," Spice went into "Soothing Sound" from the Indiscretions Riddim, which has saturated the dancehalls since its release in 2009.
Just before exiting the stage Spice pulled up another gigantic tune, "Marijuana (Pon di Corner)," and once again, without showing a drop of fatigue, the crowd went wild. When he returned to the stage with yet another marijuana tune, the lesser known but better of the two, "High Grade," he did his thing and then dropped back into "Marijuana" serving up a bona fide boom tune sandwich for the people. Delicious.
What was most notable about Richie Spice was his calm attitude that was still somehow super energizing. You won't catch him jumping side to side, leaping across the stage, or limb-flailing, but rather rocking back to tear the place down with his unique vocal style, immortal-status tunes and familiar riffs that have formed the foundation of many of our loves for reggae music.
He finished up the set with an extended, extravagant version of "Di Plane Land," and just as it seemed things might've been beginning to drag, he wrapped the set and it was over. And then, as life so often is, it seemed the crowd would have done anything for another ten minutes of that tune.