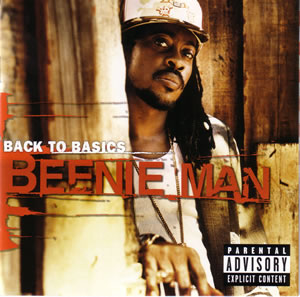 Beenie Man
[Virgin America]
This 15 track CD hits the gate running. With the first cut "Dude," Beenie Man feels the tough competition from the likes of Sean Paul and others who threaten to knock him from his throne with their own brand of Reggae Dancehall mixes. Not to be outdone by cats like Sean Paul who he claims to have "much love and respect for," this cut shows he has strayed a bit from his usual formula to show the world who the real King of Dancehall is. Fighting to keep his King of Dancehall crown from slipping, he's able to show the young boys he has still got the juice and is versatile enough to work the dancehalls at their level, as well as the level from which his fans know and love.
Still kicking hard booming bass heavy music, his "Back to Basics" will continue to fill dancehalls from the U.K to the U.S. The cut "King of Dancehall," reveals his time spent with American rap artists. It's clear he has picked up their slang–the phrase " skeet, skeet, skeet" is a sexual phrase which is common in many rap and hip-hop verses… naughty, naughty Beenie!
Beenie Man taps into other Caribbean flavors with the joint "Good Woe." The track has a big calypso flow. One of the best cuts on the CD, this song is sure to get the hips and feet moving. Beenie seemed to throw in everything but the kitchen sink on this album with some gospel, and a slow smooth joint going back to the days of being a young boy in Jamaica.
Always celebrating his love for beautiful ladies, the "Grindacologist" himself comes with "All Girls Party, and "P**y Language." "Eloh" will take you back to the after-party days when party-goers left hot sweaty clubs to rub-a-dub in dark corners.
Overall, "Back to Basics" is Beenie Man's fun album, a celebration of life and rebirth. He's saying "Hey, I've made it." This is his epiphany. He's rising from the ashes of a car accident, and accusations of homophobia in the U.K. In "Back to Basics" he says he's having fun and giving thanks for his blessings. This CD will catapult him to the next realm in his prolific career.